iEQ9 Enneagram-Certified Coach
International Coaching Federation (ICF) Certified
Unique Challenges + Coaching Solutions = Positive Progress


As a trainer and coach, I recognize that every individual and organization is unique. The ultimate expert, of your life or organization, is you.
For those I partner with, I specialize in situations where:
You're proactive, looking for tools to keep your/your organization's positive energy moving in the right direction.
OR
As hard as you've worked to get to where you're at, your formerly productive energy is "stuck." Things that used to be energizing now seem endlessly draining. It feels like things are just going through the motions.

I help individuals and organizations identify energy blocks and build processes that help get energy moving in the right direction. Positive progress is possible!
Schedule a Call
C.P, Senior Leader
To be transparent, when you first (engaged our leadership team), I thought (what you were suggesting) was hokey. I was like, 'Yeah, right - whatever. Now, I have work to do.'
Then, you told us not to expect any mindset shifts for the first couple of months, and you were right about that. I'm now 100% convinced this is true! I've moved beyond survival mode and now have more energy to create different energy. It's all true.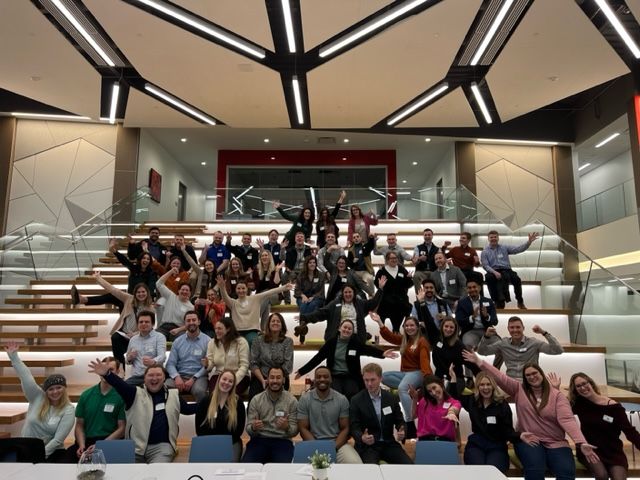 WDM Young Professionals Networking Group
The West YP event last night was wonderful. I learned more about myself and got to get to know other wonder young professionals much better by asking ourselves tough questions and really recognizing our individual habits.

Figuring out what makes us who we are by recognizing not just our strengths, but how we respond to stress and how to be aware of that was very eye-opening and is such a great way to learn how to better ourselves.
Amanda H., Working Professional & Mom
My brain was in a constant search for understanding about why I would think and respond the way I did. Barb allowed me to see who I was; it brought an overwhelming sense of peace to understand myself at a deeper level.
If you want to find a sense of understanding of who you are and how to be the best you can be, Barb is the perfect person to journey with.
The positive outcome from my coaching experience was finding a sense of peace. I would recommend this to anyone wanting to improve both personally and professionally.
Dr. Carver, Chiropractor
Barb helped me to more fully understand the valleys I had been going through and to embrace those as just as significant as the mountains. She helped me to understand more clearly how I react to different events in healthy and unhealthy ways, as well as tools to help me process future events.
If you feel intimidated about having a coach, Barb is the least judgmental person I have ever met. She truly seeks to understand the perspective of each individual and doesn't try to sway you in a particular direction, which I appreciated.
Get started with the program that's right for you
Individuals - Energy Coaching
An interactive program including six personal assessments, a workbook, online curriculum, and a blend of education and coaching. Discover what energizes you, what drains you, and how to minimize your energy blocks using practical tools. Get your energy, focus, and perspective back, regardless of your circumstances!
4-month package: 8, weekly sessions along with 2 additional months of customized goal-setting and coaching
6-month package: 8, weekly sessions along with 4 additional months of customized goal-setting and coaching
Ad-hoc coaching packages: Choose a package of individual coaching sessions that best matches the support you're seeking in your current season.
Schedule a Call To Get Started
Professional Development & Coaching
For teams, leaders, and organizations wanting help with self-awareness, reducing negative energy, and improving productivity through better communication.
Just like you schedule routine maintenance checks for your home and car, professional development and coaching calibrate the "people efficiency" of your department and/or organization.
Use your own organization's data to address identified energy blocks and optimize performance.
Professional Development Training Topics:
The Enneagram: Shine Spots & Blind Spots - A Tool for Empathy and Awareness
The Platinum Rule for Better Communication
Managing Personal Stress
Self-Awareness As a Tool for Increased Productivity
For maximized impact, a blend of training and coaching (group/individual) is highly recommended.
Individual sessions and packages are available.
Schedule an Organizational Consultation to discuss your specific needs.
Schedule a Consultation
Speaking Engagements

I help people understand more about what blocks positive energy, and how to unblock it and get positive energy moving back in the right direction.
Whether it's a podcast, conference, retreat, workshop, or other event, I love to speak on these topics:
Self-Awareness
The Enneagram (specifically as a model for self-awareness and empathy)
Stress Management (Personal, Team)
Effective Communication
Resilience
Sustainable Habits
Request A Speaking Engagement
Past Speaking Engagements
General
Podcasts
Presentations & Training
Flourish Chiropractic Staff Development (2022)
AVEDA Institute team workshop (2022)
Des Moines University (2022)
Five Star Senior Living (2022)
Federal Home Loan Bank of DSM (2022)
River Valley Credit Union (2022)
Single Parent Provision staff development (2022)
Principal Financial Group team development - 2 separate engagements (2022)
Lessing Flynn staff development (2022)
Meyocks staff development (2022)
Excell Marketing team development (2022)
Iowa Employment Conference (2021 and 2022)
CCNI Coaching Network (2022)
Truth Business Network (2022)
American Business Women's' Association (ABWA) (2021 & 2022)
Golden Career Strategies (2021)
Professional Educators of Iowa (2021 & 2022) - 4, two-day workshops
Bridges Coaching (2021)
Jobs for America's Graduates - Iowa (iJAG) (2021)
Family Life Church (2021)
Infinite Family Chiropractic (2021)
Be Well Chiropractic (2021)
True Roots Chiropractic (2021)
Morning Blend Networking Group (Formerly Metro Business Friends) (2020)
Mothers of Preschoolers - MOPS (2020)
Garden Gate Ranch team development (2020)
Stay Connected

Be the first to know when new content is available.
I promise not to overburden your Inbox. We're busy enough!